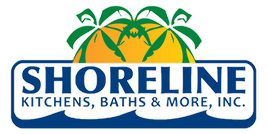 Call Today For A Free Estimate
386-756-9234
OUR BUILDER LOYALTY PROGRAM
Shoreline Kitchens, Baths & More, Inc. has been serving builders across Florida for 38 years. We offer a wide variety of cabinet lines (6+) and price points all factory made in the USA.
Our professional kitchen and bath designers can also offer full support and services as well. We provide full showroom support and assistance for you and your clients and showcase large kitchen and bath vignettes. Working with us, you'll be able to do more for your clients and save more for your company. Let us help you WOW your clients and differentiate your brand!
As a partner in our Builder Loyalty Program, you'll receive benefits such as:
Professional master craftsman installation

Use of our showrooms for client presentations
Professional design services with attention to detail

And more…
Aggressive builder pricing on

all products we offer
Unmatched dedication by our designers with full sales support for your account

For more information concerning our Builder Loyalty Program,
please
call Shoreline Kitchens, Baths & More, Inc.