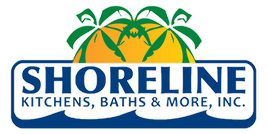 Call Today For A Free Estimate
386-756-9234
CLIENT TESTIMONIALS
Shoreline Kitchens, Baths and More, Inc. is proud to be a community leader having been voted twice as the Daytona Beach News-Journal Readers' Choice for Best Cabinet Dealer in Volusia and Flagler and we are honored to have this prestigious award given to us for 2015 and 2016.
While the community supports our efforts, here are some of the things our beloved clients had to say:
"I had an excellent experience. Shoreline did an outstanding job! I especially appreciated the willingness to work within my budget, no high pressure, and very polite and respectful. The installer was also very good. I would recommend Shoreline Kitchens, Baths, and More, Inc. in a heartbeat. I've been singing your praises to everyone I know!"
- Laurie C.
"I LOVE MY KITCHEN! Just wanted to let you know I love my new kitchen cabinets and tops. You did such a great job, (your installer also) I am now recommending your firm to all the folks in my neighborhood that have seen the new kitchen. I had two realtors stop by the other day, they loved all the upgrades, and really liked the kitchen. If you ever need a reference have them call me."
- Judy R.

For more information concerning our process, or to schedule your own
personalized FREE estimate with us, call Shoreline Kitchens, Baths & More, Inc.
386-756-9234